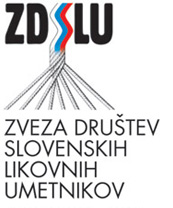 ASFAS Gallery, Komenskega 8, 1000 Ljubljana
MIHA MALEŠ - KERAMIKA
6. May - 1. June
Opening hours
Monday - Friday: 10.00 - 18.00
28. October - 14. November - Fina Arts Society Gallery Maribor, Židovska ulica 10, Maribor
Monday -Friday: 9.00 - 13.00
Curator: Breda Ilich Klančnik
Miha Maleš (*1903, Jeranovo above Kamnik, +1987, Ljubljana) was a man of many talents. Beside Jakec he had a pioneer's role in territory of Slovenian graphics but he was also painter, drawer and poet, bibliophile and publisher, art's organizer and much more. If he ironically named himself tradesman perhaps he was pointing out also the area that would be then first lightened at the exhibition in society's gallery at Komenskega 8 in Ljubljana at that took us to the world of his ceramics. Stressed expressional power of line would then sound at numerous painted decorative plates and vases in new and at the same time already weel-known maleš's chords. Beneath polish of mobile drawn figure, portraits and into cirkular shape catched masks and animal figures with fauvistic inspiration will once more conjure us tempting artistic stories of painter - poet.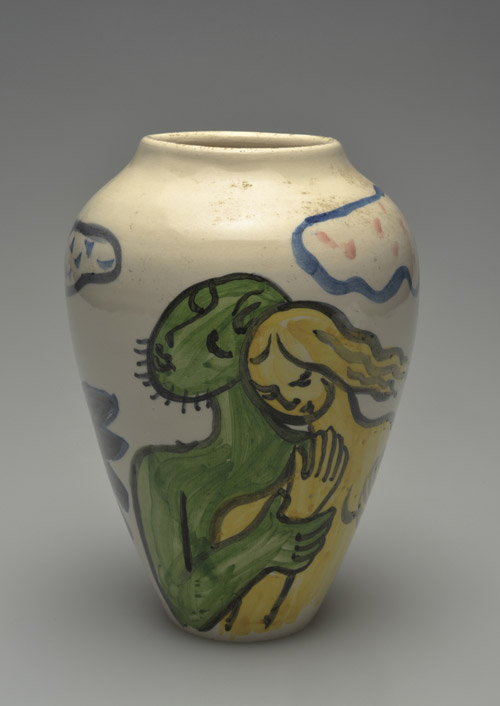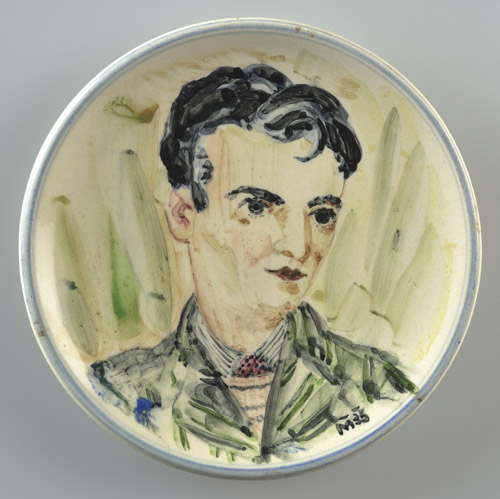 Prevailing majority of extensive Maleš's artistic production is preserved on paper and in our memory we automatic first connect it with graphics. At the beginning naked sketch appears in the white area to which prints from graphic matrix are added afterward, from which expressive contrasts of black and white surfaces hask, and in the end colour joins to motional line and dark areas on white basis. The most general painting tool - canvas is replaced with paper. Paper and canvas basis are in the thirties in precedent century frequently replaced with other attractive materials and technics such as glass and glass partition, outlines for tapestries, literary equipment and finally ceramics. Wonderment and joyfulness of discovering the nearest surrounding of Kamnik, "the most beautiful landscape in the world", mysterious paintings on glass in modest homely "lord's corner", simple painted ceramic objects and decorated vessels for everyday use are ringing in Maleš's creativeness also after his artistic horizons over Zagreb, Vienna and Prague expanded to modish French influence. He never neglected genuine homely folkloristic tradition although he was touched by Picasso's, Dufy's and Chagall's ideas and fauvistic colouring. We can trace elements of precious heritage of national shaping not only in his work, graphics and specially in painted ceramics, but also in artistic magazine Art which he was publishing for nine years and where he frequently point those elements out. With articles, exhibiting and sale in his Artistic salon, which he opened in 1930 in Ljubljana at Kongres square, he tried to raise artistic culture in Slovenian territory to higher level. He particularly tried hard to popularize black and white art and he systematic attended to promotion of national art.
In interview printed in Slovenian nation in 1930 (13.3.) we can on how large scale young artist placed his promotional programme: "My artistic salon will be the first institution for art trade and craft with constant exhibition of most excellent representatives of fine arts without differences in directions and tendencies. Salon's artistic workshop will make all products which belong to painting, carving trade and gild work and will pay special attention to church art: making and renovating old paintings, frames and statues, further to decorative sculpture, frames of all sorts, everything according to plan of salon or customer, to diplomas, artistic pictures, photographies, etc. Beside the modernist patterns by my plans I will constantly also manufacture objects. In short with the help of painter Lojze Kozjek, first-class specialist for carving trade and gilt work I will produce all artworks belonging to artistic trade. Beside workshop I will also open the first shop of artworks combined with constant artistic exhibition of all home and foreign painters and sculptors (Jakopič, Vavpotič, Dolinar, Šantel, A.G. Kos, Gaspari, Smrekar, all members of Slovenian artistic association, etc.). We will also sell, buy, renovate and estimate all artistic antiques.
Ceramics in our stores which is known by foreign mechanical products will be in my salon represented mainly by Slovenian ceramists (school Kralj - Beran, Dolinar, Pajnič and others). My salon will be occupied also with artistic propaganda and publishing. Soon series of self-portraits in picture postcards representing our painters and sculptors will be published."
Some years later, precisely in 1935, Maleš also devoted his attention to ceramics. If we neglect initial, scool sculpture experiments, studio's smell of wet clay was long ago exchanged for printing and oily colours. Now he undertook ceramics as a painter. Rigorous right-angled format of graphic sheet was replaced with cheerful circular shape. First of all he's own image appeared on the plates from ceramic workshop Schnabel in Kamnik. Some portraits of his future wife Olga followed and also the motif Memory of Venice, which he next year transfered to canvas in a bit changed composition, glistened under transparent glaze. Some years later he created the whole series of painted plates with themes of national costumes. Sense of details got its validity in playfull decoration and embroidering of head-coverings. Beside series of ceramic plates, which were with graphics successfully exhibited in Milano in 1939, Maleš placed to the exhibition also examples of national ceramics so he could illustrate rich imagination of unknown creators from surrounding of Kamnik and Ribnica in Dolenjska and also to show to foreigns our precious tradition and national artists's artistic sensation for plastic voluminousness of objects, which are with their simplicity and directness often persuading with elementary force related to modern statue.
After Maleš in the middle of fifties returned from longer journey over Western Europe he again intensively devoted his attention to ceramics. Beside agitated figuration he also caught into circular shapes numerous animal figures which we can at the same time find in lively junction on Evening plays in graphics and painting. On plates he experimented with rough surface of horse trunks in opposition to polished surface of the bacground, however in vase painting come to expression emphasized outlined line of profiles which are following each other at a bellied periphery of ceramic vessel. Colouring underglaze painting with numerous reminiscences to faraway african and other cultures and first of all homely folkloristic tradition found its place on many plates, vases, jugs and drinking vessels and even on miniature broochs.
All coloured decorative collection of Maleš's painted pottery is like feast day for the eye, infinite joy of story-telling and shaping. Artist himself thought it is worthy to often exhibit ceramics and to supplement with it the reviews of more popular graphics and oily images. Also today attractive and fresh ceramics within Maleš's opus represent pure unicum and it is right that sets up measure for triennial planned UNICUM.
ASFAS Gallery, Komenskega 8, 1000 Ljubljana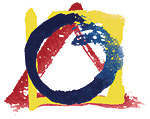 Ljubljana Fine Artists Society